What Does TPMS Mean?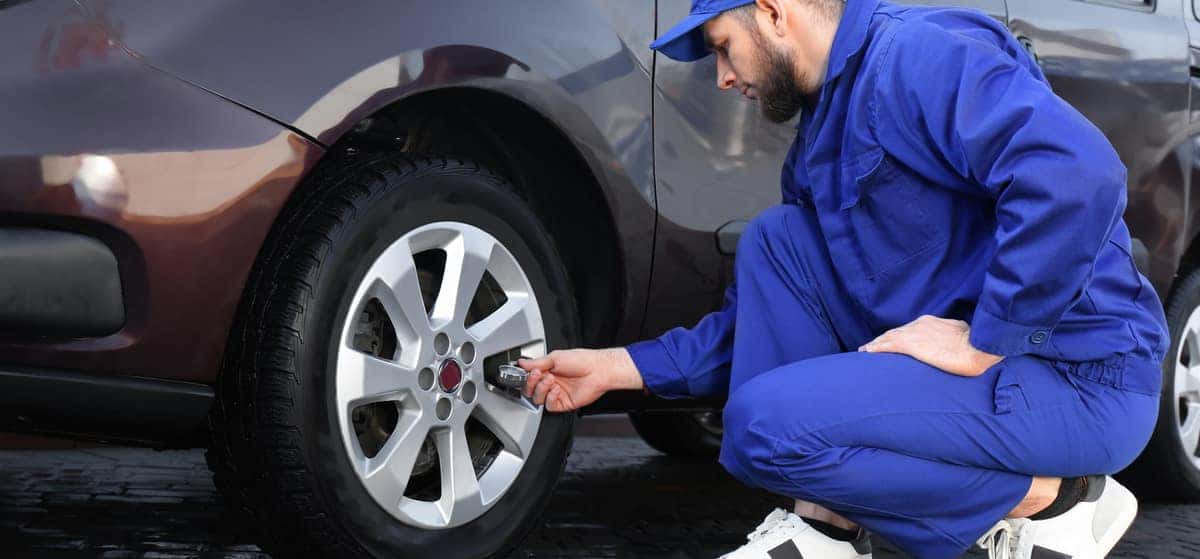 If you're like some of our Forest Grove customers, you were excited to learn your new car has a TPMS. But if you're like most of our customers, you're probably asking, "What does TPMS mean?"
"TPMS" stands for "Tire Pressure Monitoring System", which pretty much does what its name implies. That may sound simple, but it's very important! Let's talk about what the TPMS does and all the reasons why you should keep track of the pressure in your vehicle's tires.
---
What Does the TPMS Mean for You and Your Car?
Having a tire pressure monitoring system in your car means that it is that much easier to keep your tires properly inflated with the correct air pressure. No more having to fish a tire pressure gauge out of your glove compartment. No more having to bend over or stoop down to fumble with (and try to avoid losing) the little cap on the tire's air nozzle, unless you know you have to inflate your tire, of course.
Having the TPMS on your vehicle means knowing right away if one or more of your tires need to be inflated. Anything that makes it easier for you to keep your tires properly inflated is a good thing.
Why It's So Important to Keep Your Tires Properly Inflated
Knowing what "TPMS" means is one thing, but knowing what to do with it and why it is important is quite another. You will want to pull into a gas station and inflate your tires as soon as the tire pressure monitoring system alerts you that at least one of your tires is low. If your tires won't stay inflated, they may need to be replaced. In that case, contact our service department so we can take care of you. Here's why maintaining proper tire pressure is important:
Your tires will last longer. Under-inflated or over-inflated tires wear out much faster than tires that are properly inflated.
Under-inflated tires can be dangerous. If your tires are not properly inflated, they can't grab the road as well as they could if properly inflated. You do not want to lose control while driving on our Aloha roads.
Improperly inflated tires will decrease your gas mileage. You get the best fuel economy from your vehicle when your tires are properly inflated.
Get Your Tires Serviced at Dick's Country Chrysler Jeep Dodge of Hillsboro
Now that you know what "TPMS" means, keep an eye on your tire pressure. Be sure to bring your car in for any service needed on your tires. You can even schedule service online. And if you found this article helpful, be sure to check out our other service tips and tricks. We're just a short drive away from Beaverton, so drop by today!
More From Dick's Country Chrysler Jeep Dodge
Small SUVs can be powerful, as the Jeep Compass proves. Want to take your small camper or boat out for a weekend of fun? You can with the 2021 Jeep Compass. The Jeep Compass towing capacity reaches 2,000 pounds. Sleek styling coupled with incredible towing and off-road capabilities make the Jeep Compass a top…

Whether you're transporting your boat to the lake on weekends or hauling a bulky work trailer around Forest Grove, customers in Hillsboro need a tough vehicle that can withstand heavy loads. Jeep has got you covered. The 2021 Jeep Cherokee towing capacity reaches a maximum of 4,500 pounds when properly equipped. The Cherokee payload capacity is…

The 2021 Jeep Grand Cherokee has proved itself to be a popular choice for many Forest Grove families. It's got plenty of room for long road trips and advanced technology to ensure everyone stays connected on drives. But, how much can the Grand Cherokee tow? Drivers who plan on towing with their Grand Cherokee will…