How to Check Your Transmission Fluid

Keeping up with regular service has immense benefits. Staying on track with the recommended service intervals recommended by your car's manufacturer will help to increase the safety and longevity of your vehicle. It will also go a long way towards retaining the maximized value, should you ever decide to sell your ride. While taking a trip to our Hillsboro service center will always lead to friendly and affordable service, there are many maintenance tasks you can do on your own. One important task is to learn how to check transmission fluid. When you regularly check your transmission fluid, you can spot any issues and protect a vital engine component. Learn how to check your transmission fluid and more below!
Steps On How to Check Transmission Fluid
Every driver wants to know how they can keep their new vehicle running smoothly on the streets of Forest Grove. One easy way is to understand how to check your transmission fluid on a routine basis. Follow our step-by-step instructions below to learn how:
Turn the car on. The engine should be warmed up to check your transmission fluid level.
Locate the transmission fluid dipstick. If you drive an FWD vehicle, it's probably located to the right of the oil dipstick, but you can check your owner's manual if you need help finding it.
Remove the dipstick and touch a bit of the fluid, then move it around between your thumb and forefinger. If your fluid is the proper color, it will be almost clear, with a bit of a pink hue. If it smells burnt or looks dirty, it's time to replace the fluid.
Wipe the dipstick clean with a rag, then insert it back into the vehicle. Pull it out once more, and take a look at the level. If it falls under the "Full" mark, you'll need to top off the fluid.
To avoid a mess, use a funnel to add fluid, and take care not to overfill.
If you have any trouble trying to check your transmission fluid, don't hesitate to contact Dick's Country Chrysler Jeep Dodge. We're just a short drive from Aloha, and we're happy to answer any questions you may have!
How Often Do You Check Your Transmission Fluid?
Now that you know how to check transmission fluid, you likely want to know when you should do it. In order to catch any issues before they become bigger and more costly, you should check your vehicle's main fluid levels every month. This includes checking the transmission fluid, power steering fluid, and engine oil. If you'd like to get a more specific maintenance schedule, your owner's manual will guide you.
Transmission Fluid Basics
The transmission is one of the most important and complex components of your vehicle. Before checking the transmission fluid, check out these helpful tips:
Transmission fluids are not all the same. There are different types for newer models, manual transmissions, and automatic transmissions. Again, your owner's manual will tell you the type of transmission fluid you should use.
When you're checking the fluid on a manual transmission, it will typically require a jack to access a plug underneath the car. Unless you're an experienced and confident DIYer, we'd suggest visiting our service department for your convenience and peace of mind.
Have you noticed your vehicle hesitating before shifting gears? It could be caused by low transmission fluid, but it might also be a sign of a more serious issue. Go ahead and check the fluid level first, but if it looks fine, we recommend scheduling service with us today.
Transmission fluid should be replaced every 50,000 to 100,000 miles, but the actual time depends on how and where you drive your car and the type of transmission you have, among other factors like your RAM 2500 towing capacity. Take a look at your owner's manual for a clear replacement interval.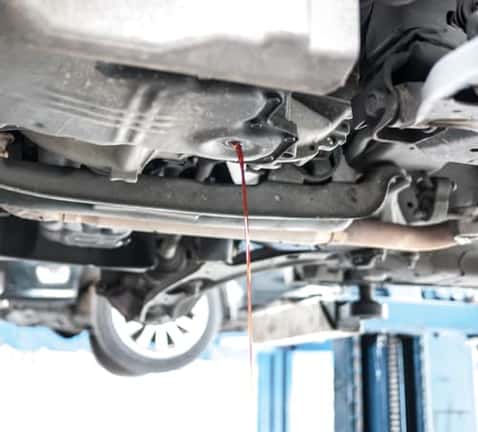 Trust Dick's Country Chrysler Jeep Dodge for All Your Service Needs
Along with teaching you how to check your transmission fluid, we can guide you through a myriad of service tasks. If you ever have questions about your vehicle's service or maintenance requirements, like how to properly jump-start a car battery remove a battery, or how to read your Tire Pressure Monitoring System, don't hesitate to contact our service department near Beaverton. Our certified technicians will be happy to provide you with thorough guidance through all of your car care concerns.
More Service Tips From Dick's Country Chrysler Jeep Dodge
Without the correct amount of oil, your Chrysler, Dodge, Jeep, or Ram vehicle can't run as it was intended, especially if you're taking advantage of Wrangler towing capacity. You should always make sure there's enough motor oil to keep the engine's moving parts lubricated. This way, you can travel confidently through Forest Grove and Aloha, knowing…

There are many different aspects of vehicle maintenance that can help extend the life of your car, improve your vehicle's performance, and save you money in the long run. Among the most important aspects of auto maintenance is getting your tires rotated. Find out why it's important to get the tires on your new Dodge…