How to Check Your Transmission Fluid

One of the best ways to keep your Forest Grove daily driver in tip-top shape is regular maintenance. Staying on track with your vehicle's recommended service intervals will not only increase its longevity but also its safety as well. Not to mention, a well-maintained vehicle is worth more in the long run when it comes time to sell. While taking your vehicle to our service center will always result in affordable and well-performed maintenance work, we understand you might sometimes prefer to get your hands dirty and need some assistance. That's why today at Dick's Country Chrysler Jeep Dodge, we'll touch on how to check transmission fluid in your Chrysler, Dodge, Jeep, or RAM!
Steps On How to Check Transmission Fluid
Are you wondering how to check your Dodge and RAM transmission fluid or your Chrysler and Jeep transmission fluid? We've got you covered. Knowing how to check transmission fluid is vital if you want your vehicle to regularly eat up those Aloha miles. Keep in mind that this may vary depending on your specific vehicle, so it's best to reference your owner's manual or schedule a service appointment if you're unsure about the process on how to check Dodge and RAM transmission fluid or Chrysler and Jeep transmission fluid. Without further ado, here are step-by-step instructions on how to check transmission fluid in your new or pre-owned vehicle:
When you're learning how to check transmission fluid, start by turning the car on. Your engine should be warmed up to check transmission fluid.
Begin looking for the transmission fluid dipstick. On most FWD vehicles, it'll be located to the right of the oil dipstick. However, this can vary so make sure you check your owner's manual.
Once the dipstick has been located, remove it and touch a bit of fluid. Rub the fluid a bit between your thumb and forefinger, taking note of the color. Proper transmission fluid color should be almost clear with a pink hue. If you notice the fluid looks dirty or smells burnt, it's likely time to replace the fluid.
Wipe the dipstick clean with a rag, and reinsert it back into the vehicle. Then pull it out and take note of the level. If you notice it's under the "full" mark, you'll need to top it off with the appropriate transmission fluid.
When adding more fluid, make sure to use a funnel to avoid making a mess. It's important that you don't overfill the fluid as well.
If you have any questions about how to check Dodge and RAM transmission fluid or Chrysler and Jeep transmission fluid, you can always turn to our team for assistance. We're just a short drive away from Beaverton and we're more than happy to help!
How Often Do You Check Your Transmission Fluid?
Now that we've gone over how to check your transmission fluid, you're likely wondering how often you should do it. To avoid any costly repairs or issues from forming down the line, it's best to check your vehicle's fluid levels every month or so. This includes transmission fluid, power steering fluid, and engine oil. However, your specific usage and driving habits can affect the frequency of when you should check your vehicle's fluids. Harder and more extreme use of your vehicle could increase the frequency and normal or light usage could mean you can decrease the frequency.
Transmission Fluid Basics
Your transmission is responsible for making sure your vehicle is in the right gear. It's a complex and important component of your vehicle. Before checking your transmission fluid, keep these helpful tips in mind:
Not all transmission fluids are equal. There are different types depending on many different factors such as your make, model, transmission type, and more. It's important to reference your owner's manual for what transmission fluid you should use.
When you're checking the fluid on a manual transmission, it will typically require a jack to access a plug underneath the car. Unless you're an experienced and confident DIYer, we'd suggest visiting our service department for your convenience and peace of mind.
Have you noticed your vehicle hesitating before shifting gears? This could indicate that you have low transmission fluid or a more serious issue. You can always check the fluid level first, but if nothing looks abnormal, we recommend scheduling service with us today.
While the general rule of thumb is to replace transmission fluid every 50,000 to 100,000 miles, the actual time depends on how and where you drive your car and the type of transmission you have. Additionally, there are other factors like your RAM 2500 towing capacity. Take a look at your owner's manual for a clear replacement interval.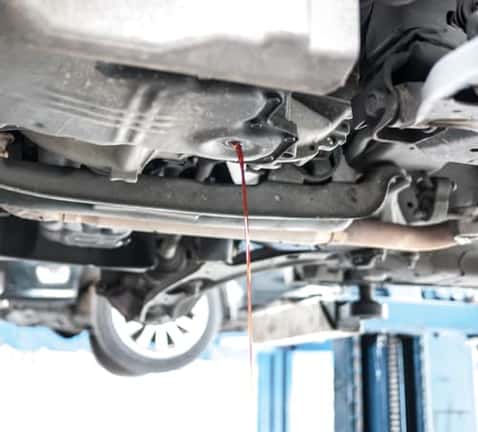 Trust Dick's Country Chrysler Jeep Dodge for All Your Service Needs
Along with teaching you how to check your transmission fluid, we can guide you through a myriad of service tasks such as checking your car's oil level, jump-start a car battery, or even how to read your Tire Pressure Monitoring System. As always, please don't hesitate to contact our service department near Beaverton. Our certified technicians will be happy to provide you with thorough guidance through all of your car care concerns. See you soon!
More Service Tips From Dick's Country Chrysler Jeep Dodge
Without the correct amount of oil, your Chrysler, Dodge, Jeep, or Ram vehicle can't run as it was intended, especially if you're taking advantage of Wrangler towing capacity. You should always make sure there's enough motor oil to keep the engine's moving parts lubricated. This way, you can travel confidently through Forest Grove and Aloha, knowing…

There are many different aspects of vehicle maintenance that can help extend the life of your car, improve your vehicle's performance, and save you money in the long run. Among the most important aspects of auto maintenance is getting your tires rotated. Find out why it's important to get the tires on your new Dodge…