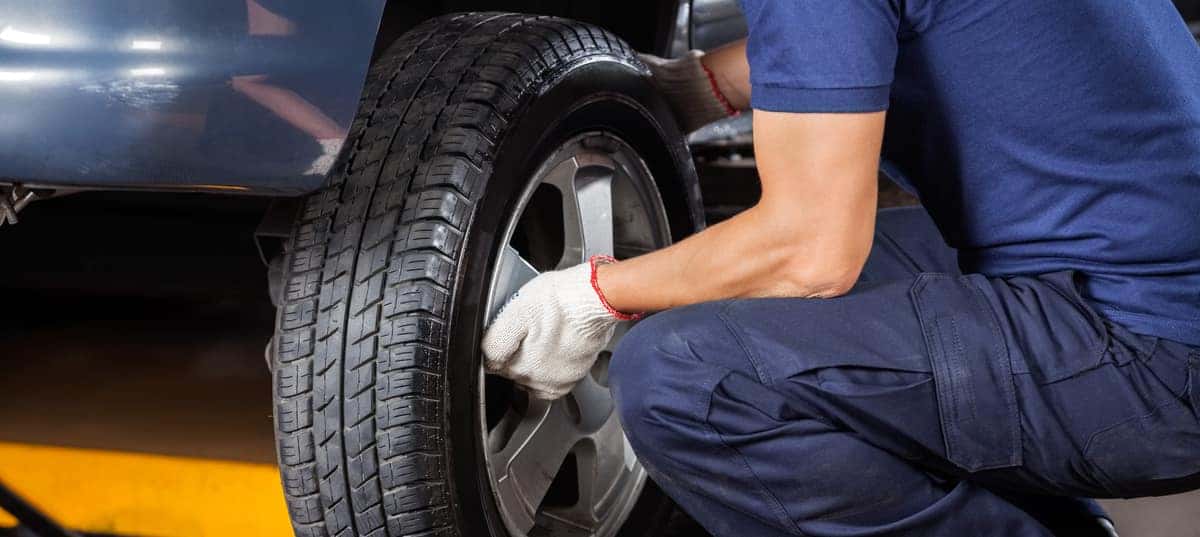 Your tires are what keep your vehicle moving. They are your protectors from the road. Therefore, you need to know when to rotate tires. How many miles to rotate tires? For many drivers, tire rotation should occur every 5,000-7,000 miles. To be sure of your vehicle model's tire rotation, you can always reference your owner's manual.
If you like to go off-road or travel a lot, you may wonder about the health of your tires. So, how often should you rotate your tires? Your tire rotation should be more often than the general safety rule if you frequent rough terrain. How many miles to rotate tires will depend on the roads you travel, weather conditions, and how much you drive. Our service department at Dick's Country Chrysler Jeep Dodge can help asset the state of your tires.
---
FWD and RWD Vehicles Tire Rotations
Front-Wheel-Drive and Rear-Wheel-Drive vehicles supply power to tires differently than All-Wheel-Drive cars. Thus, the tires where the bulk of the engine power is sent will wear faster. Keep in mind that the power engine supply on an FWD vehicle goes to the front wheels, and on an RWD, it is the back tires. Here are some tire rotation tips to keep in mind when driving either:
Tire rotation can vary on FWD or RWD models. Consult your owner's manual. At the very least, you should have the tires rotated every 5,000 to 7,000 miles.
If you decide to perform your own FWD tire rotation, there are a few things to remember. You will need to switch the rear tires. For example, the right rear tire rotates to the front left tire. But, if you turn the front tires, they move to the same side's rear tires.
A DIY RWD tire rotation is the opposite of an FWD tire rotation. You will switch sides when moving the front tires to the back and keep the rear tires on the same side when switching to the front.
How you drive impacts your tires; they can weather faster depending on where and how you drive your vehicle. Whether you love off-roading, road trips, or daily commutes to Beaverton, everything affects tire treads. Thus, stay away from gravel roads, potholes, and rough terrain. You can always reach out to us at Dick's Country Chrysler Jeep Dodge to talk with an expert.
AWD Tire Rotation Tips
It can surprise some that All-Wheel-Drive vehicles need a maintenance appointment sooner than FWD or RWD tires. The tires on an AWD model wear differently, and at different accelerations. Generally, AWD tires need rotating at 3,000 to 5,000 miles.
Why Rotate Tires?
Now that you know when to rotate tires, you may be wondering why you should bother. For you to extend your tires' lifespan and get the most out of them, a tire rotation is necessary. Tire rotations are also important for your safety. Thus, you need to ensure that your tires get a rotation when you reach the miles a rotation calls for in your manual. Here are some reasons regular tire rotation is beneficial:
Improved traction on slippery roads in Aloha
Less noise on the road
Relieves unnecessary stress on the drivetrain
Better traction to stop the vehicle quickly
Get Your Tire Rotation at Dick's Country Chrysler Jeep Dodge!
Still wondering how often should you rotate your tires? Our service team can answer when to rotate tires and any other questions you have regarding your tire care. Feel free to contact us if you need expert parts tips or advice on how many miles to rotate tires. We are happy to serve Forest Grove and the surrounding communities.