How to Jump Start a Car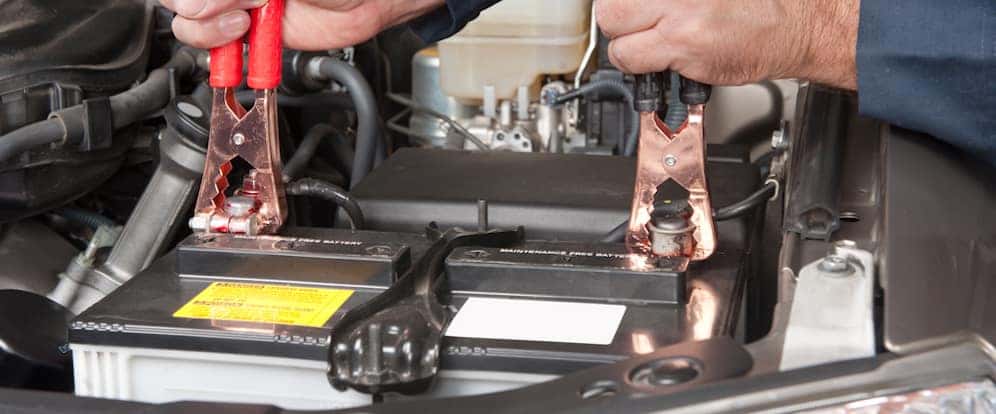 You will likely need a jump start, car battery service, or something similar if your vehicle won't start. Among these, the first option is the most likely. Need to know how to properly jump start a car? Follow this handy guide from Dick's Country Chrysler Jeep Dodge so you don't need to call a jump start car service. Battery is nearing the end of its life? Visit our service center near Forest Grove for a replacement.
The Proper Way to Jump Start a Car
You'll only need a set of jumper cables and another vehicle to jump start your car properly. You can also call a jump start car service like AAA. Once you've got that settled, follow these steps:
Have the car with the good battery park facing the other vehicle, then make sure that vehicle is turned off. Check to make sure both parking brakes are engaged.
Open both hoods and find the batteries. You may need to remove a plastic hood to expose the battery terminals.
Identify the positive and negative terminals. Make sure they're clean and free of any corrosion.
Connect the red clamp to the positive post on the dead battery.
Uncoiling the battery cable, hook the other red clamp to the positive terminal of the battery with the charge.
Connect the black clamp to the negative post on the good battery.
For the final clamp, connect it to an unpainted metal surface on the car's frame.
Once everything is hooked up securely, start the engine of the vehicle with the good battery first, then the one with the dead battery.
Once the dead vehicle has been jump-started, carefully remove the jumper cables in the reverse order that they were placed on, then shut off the car that was used to help jump-start the dead car.
Keep the engine running on the restarted vehicle for at least 10 minutes to ensure that the weak battery doesn't die again right away. Consult your owner's manual for more info on recommended times.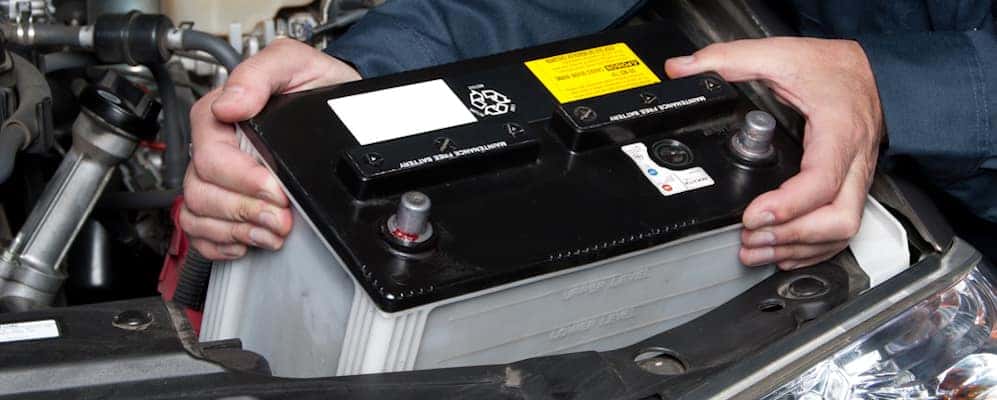 More Battery Tips and Tricks
Car won't jump start? If it's not a more serious problem, you may just need a battery replacement. Take these steps to figure out what the problem is:
If starting the car only creates a clicking sound, the starter might be broken. Schedule service at Dick's Country Chrysler Jeep Dodge near Aloha for a replacement.
If the car's electrical systems turn on, but the engine fails to turn over, the problem could be an ignition switch, battery, starter, fuse, or any number of problems. Again, bring your vehicle to our service center so the issue can be diagnosed.
Be sure to keep your vehicle running for a while after getting the jump. That allows the battery to recharge fully after it's been drained.
Turn to Dick's Country Chrysler Jeep Dodge for Service
Whether you need help with a new battery or an oil change, our service center can help. We're located just a short trip from Beaverton, so visit us or contact us with any questions. <div class="well"><h2>More From Dick's Country Chrysler Jeep Dodge</h2>
View Dodge Journey InventoryContact Us Looking for reliability, advanced safety technology, and a great deal every time you fill up at the gas pump? The 2020 Dodge Journey may be the family-friendly midsize crossover you're looking for in Hillsboro. With a max 19 MPG in the city and 25 MPG on the highway, you…

You already know you can rely on Jeep for legendary off-road capability, but that's not the only reason you should consider a model from our lineup! The 2020 Jeep Cherokee interior delivers on a premium cabin experience for everyday driving in Forest Grove or Aloha. 7 trim levels and plenty of features to choose from means your…

The 2019 Dodge Grand Caravan interior is fully equipped with convenient features, tons of storage space, and seats built for superior comfort. We understand driving from Forest Grove to Beaverton is a journey, but the comfort of the Dodge Grand Caravan seating is spacious with seven seats. With the 60/40 split fold third-row seating, families are…
</div>